Do you need reliable tax resolution services to help you take charge of your tax problems once and for all? Depending on your circumstances, you have several options available for state and IRS back taxes relief. With our seasoned tax consultants on your side, you can look forward to getting the best solution for your specific problems with back taxes. Price Advantage Accounting has a team of experienced accountants and tax attorneys that will work to help you get the most effective back taxes help for your circumstances. Our tax resolution specialists meet with you on a one-on-one basis to identify and implement the most beneficial strategies for putting an end to your back tax struggles. To get started, call or e-mail us for a free telephone consultation.
Understanding your options is the first step toward resolving your problems with back taxes. At Price Advantage Accounting, our tax lawyers and consultants have decades of in-depth knowledge of the inner workings of state and federal tax regulations. Even if you feel like the tax authorities are out to get you, we can turn the tide and help you negotiate a back tax settlement that is mutually beneficial. So don't just let your back tax problems get worse by ignoring them and hoping for the best. A proactive approach is essential to resolving your tax problems. Price Advantage Accounting will provide you with the representation, negotiation help, and ongoing guidance that will enable you to overcome your difficulties with state or federal taxing authorities. Take the bull by the horns and call us today!
The results-oriented tax resolution services we offer you include:
Installment Agreements
Offers in Compromise
Innocent Spouse Relief Claims
Penalty Abatement
Appealing a Government Action
Stop Wage Garnishments
Tax Settlement Negotiations
Installment Agreements
Need a payment plan set up with the IRS to help you pay off your tax debts over time? Internal Tax Resolution can negotiate a viable installment agreement with the IRS or Florida Department of Revenue that will help you settle your back taxes without saddling you with financial hardship. Our staff of tax consultants can assist you in creating a realistic budget to optimize your installment agreement payments without depleting your resources. At Price Advantage Accounting, we can help you pay as little in interest and penalties as possible while continually chipping away at your back taxes debt. Have questions? Just give our tax consultants a call or send us an e-mail to learn more.
Offers in Compromise
An offer in compromise enables you to pay off your IRS back taxes for less than you currently owe. It's a tax debt reduction settlement between a taxpayer and the IRS which can ease the pressure and make paying your tax debts a realistic objective. If your income and assets are insufficient to pay off your tax liability within a reasonable period of time, you may be eligible for this type of tax debt relief. Our tax lawyers and licensed accountants at Price Advantage Accounting will make sure your offer in compromise is as strong as possible to help you get the back tax relief you need and deserve.
Innocent Spouse Relief
Filing taxes jointly with your spouse means you are both liable for the entirety of the taxes, interest, and penalties. Consequently, the IRS can hold one party responsible for a disproportionate amount of the total tax bill owed—even if the couple is no longer married. The good news is that tax authorities recognize there are cases in which it's unfair to hold one party liable for the errors, omissions, and even fraudulent tax filings of their current or former spouse. At Price Advantage Accounting in Orlando, our professionals can help determine whether you're eligible for innocent spouse relief and identify which of several strategies would be most beneficial to you. With our tax resolution specialists by your side, we'll make filing as straightforward and stress-free as possible. You'll have the peace of mind of knowing that your innocent spouse relief claim is being handled by experienced professionals who are committed to helping you.
Penalty Abatement
Not paying your taxes on time means you not only owe back taxes, but you're also liable for interest charges and penalties. Owing back taxes can generate penalties of up to 50% of the total tax owed, and interest also builds up on the money you owe—typically around 4% per year. With our help, though, it is possible to stop the snowballing effect of tax penalties. The IRS does understand that sometimes taxpayers have legitimate reasons for being behind on their taxes, and if you qualify for penalty abatement, those burdensome tax penalties can be reduced or even eliminated. Our tax consultants are familiar with the latest tax codes and IRS policies, and we can put that expertise to work in securing penalty abatement for you. We'll help you submit evidence of "reasonable cause" to the IRS explaining the late or non-payment of taxes. Examples of reasonable cause include the following:
Death of a close family member
Unavoidable absence (prison, rehab, etc.)
Destruction of tax records by disaster (fire, flood, etc.)
Because each situation is different, presenting strong, clear evidence is critical to securing penalty abatement. Our tax attorney and licensed accountants will apply decades of experience to helping you achieve the best possible penalty abatement outcome. Call today to see how we can help.
Property Lien Releases
When back taxes are owed for a long period of time, the tax authorities have the right to put a lien on assets like your business or home. IRS property liens are bad news not only because tax authorities have a legal claim on your property, but liens also create major difficulties for you when applying for a loan, a new credit card, or a mortgage. Fortunately, Price Advantage Accounting has the experience, knowledge, and credentials to help you settle with the IRS and get the lien removed. Our tax resolution firm and tax attorneys offer the full-service back tax help you need to vanquish IRS liens and enable you to get on with your life.
Bank Levy Releases
Another option the IRS has to make certain your back taxes are satisfied is to seize money from your bank accounts. When the IRS places a levy on your bank accounts, they will notify your bank and freeze your account for 21 days. Once that time has passed, the IRS can legally withdraw sufficient monies to cover the entire tax debt you owe, including interest and penalties. If you've recently been notified of an IRS bank levy, call Price Advantage Accounting right away. We'll help you settle with the IRS and get the levy released. Our tax resolution firm in Orlando can help make the financial burden of paying down your tax debt much more manageable and less costly.
Wage Garnishment Relief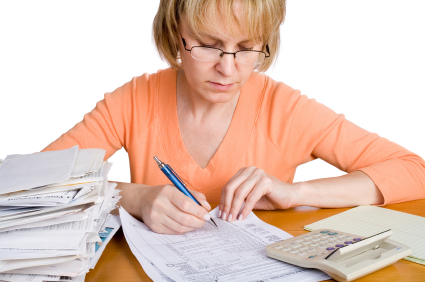 To collect on back taxes, the IRS can also deduct money straight from your paycheck. Known as wage garnishment or a wage levy, this action can wreak havoc on your personal finances. If you're in this situation, we can help. Our experienced accountants and tax attorneys can help put an end to wage garnishment by reaching a settlement with the IRS. We may even be able to present evidence of financial or personal hardship to release your wage levy. Working to help you get the best solutions when you owe back taxes, our tax resolution consultants have the commitment and knowledge to put a stop to the heavy toll that wage garnishment can take on your life.
If you need state or IRS back taxes help, our team of tax lawyers and accountants in Orlando can provide the tax assistance you're looking for. Offering a full range of back tax relief solutions, we're available now to put an end to your tax woes. Don't hesitate! Call now for a free phone consultation.